Vsak letni čas ima svoj čar, vsak prinese s sabo svojo lepoto in veselje, pa vendar… Poletje je moj čas. Obožujem tople dneve, kopanje, sonček, potepanja in poletne noči. Ampak zdaj je čas, da se od letošnjega poletja poslovim. In kako drugače to narediti, kot z izletom? In to nekam, kjer je sonček, kjer so jesenske barve in kjer je narava v vsem svojem čaru? Kam?
Bye, bye summer, hello fall!
Each season has its own charm, each brings its own beauty and joy, but still.. Summer is my time. I adore warm days, swimming, sun, wandering around and summer nights. But now it's time for me to say goodbye to this years summer. And how better to do that than with a trip? Somewhere where there is sun, fall colours and where nature is in all its glory? Where?
Lovrenška jezera se nahajajo sredi Pohorja, nekje med Roglo in Ribniškim Pohorjem. Do njih drugače kot peš težko prideš, obstaja pa več poti do njih. Sprehod do njih je lep in dokaj nenaporen, nekaj malega pa se hodi tudi v hrib.
Lovrenška jezera (lakes) are in the middle of Pohorje, somewhere between Rogla and Ribniško Pohorje. The best way to get there is by foot and there are many ways to get there. The walk is beautiful and mainly effortless, but you do walk up hill a little bit.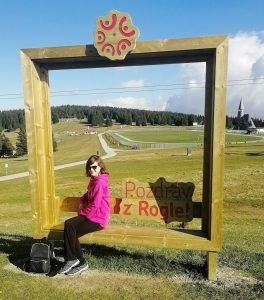 Kako (dolgo)? / How (long)?
Zagotovo priporočam primerno opremo, vsaj neke primerne čevlje. Večino poti hodiš po gozdu, sicer je potka kar urejena, ampak še zmeraj hodiš v naravi. Do jezer je nekje uro do uro in pol hoje z Rogle, sam sprehod po jezerih pa lahko traja od samo petnajst minut pa do nekaj ur, odvisno kako dolgo si želiš preživeti v naravi, se morda usesti ob jezercih, si spočiti, narediti dovolj fotografij,… Pot do jezer je označena, ni skrbi, da bi se izgubil. Moja izbira je bil začetek na Rogli, pri hotelu Planja, tebi pa priporočam, da se pozanimaš, katera od štirih poti bi bila najboljša zate.
I recommend proper gear or at least some proper shoes. You walk mostly in the woods, the way is regulated, but you still walk in nature. The distance to the lakes is around an hour and a half of walking from Rogla, and the walk around the lakes can take anywhere between fifteen minutes and multiple hours, it all depends on how much time you'd like to spend in nature, maybe sit down by the lakes, have a break, do a bunch of photos,…
The way to the lakes is marked, there is no worry for getting lost. My choice was a start on Rogla, by hotel Planja and I suggest you make you research on what the best way for you out of the four official ones would be.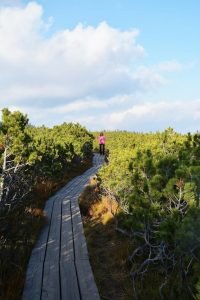 Lovrenška jezera so sredi barja, zato hoja mimo lesenih potk ni dovoljena. Voda pride do tja zgolj in samo s padavinami, okoli jezer pa so mali grmički. Na začetku jezer je postavljen tudi razgledni stolp, ki nudi pogled na celotna jezera.
Lovrenška jezera (lakes) are in the middle of a swamp and you can only walk on the wooden paths. Water gets there only with raind and around the lakes there are small bushes. At the beginning of the lakes there is also a observation tower from which you can see the entire lake area.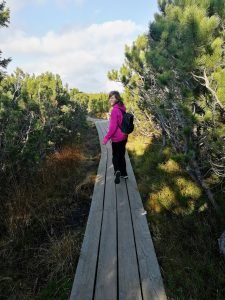 Ker je čudovit izlet v naravo.
Ker ni tako zahteven, vseeno pa se gibaš in vsaj malo utrudiš.
Ker je zanimivo okolje in tega res ne vidiš vsak dan.
Ker lahko narediš ogromno zanimivih fotografij! 😉
Because a half a day is enough.
Because it is a wonderful trip in the nature.
Because it is as demanding, but you still move around and have some exercise.
Because it is an interesting environment and it's not something you see everyday.
Because you can do a bunch of interesting pictures! 😉
Imaš še ti kako zanimivo idejo za pol ali enodnevni izlet?
Do you have any other interesting ideas for a half day or a whole day trip?