Danes je ponovno čas za nove nohte. Jesen je tukaj in na mojih nohtih se zmeraj znova znajdejo temnejše barve. Tokrat sem posegla po posebnem laku Jessica iz linije Phenom, z zanimivim imenom:
BLUE BLOODED
Linija Phenom obljublja dolgo obstojnost, čudovit sijaj in enostaven nanos. Ker je ni treba utrjevati pod lučko, je enostavnejša za nanos in uporabo kot permanenti laki, obljuba pa enak sijaj in obstojnost do 10dni. Nekje v spominu imam nekaj o naravni svetlobi, potrebni za sušenje oziroma utrjevanje, ampak… Mogoče se motim 😉 No, to je reklamni govor, kakšna pa je resnica?
Nanos
Nanos je resnično enostaven, lak se nanaša kot pesmica. En sloj, odlična pigmentacija, super barva. Pri parih nohtih sem bila sicer površna in mi je nekako uspelo dvignit barvo z drugim potegom in sem imela nenamazane flekce, ampak sem to z lahkoto popravila in se potem ni videlo.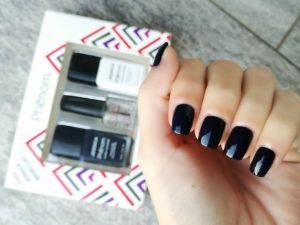 Barva
Barva je krasna, sijoče temno, temno modra. Kot nočno nebo. Po treh dneh je sijaj še zmeraj tukaj, enak kot na začetku in barva je nespremenjena. Ampak četudi ti ta barva ni všeč, Phenom linija ponuja takooo velikooo izbiro barv, da zagotovo lahko dobiš takšno barvo, ki ustreza tudi tebi. (psst, jaz jih imam nagledanih še vsaj enih pet, tako so lepi) Vse barve, na voljo pri nas, pa si lahko ogledaš
TUKAJ
.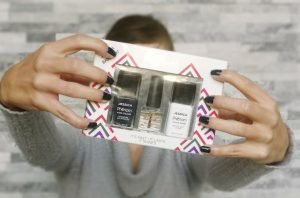 OBSTOJNOST
Po treh dneh so nohti praktično enaki kot na začetku. Ok, en se je vmes malenkost zlomil in tam je bel rob, ampak za to ni kriv lak. Nazadnje sem tega lepotca nosila dober teden, preden so se začele kazat zlizane konice, odkrušil pa se ni.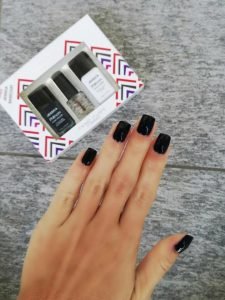 ODSTRANJEVANJE
Enostavno. Z odstranjevanjem laka za nohte, kot čisto navaden lak za nohte. Vata + aceton = čisti nohti.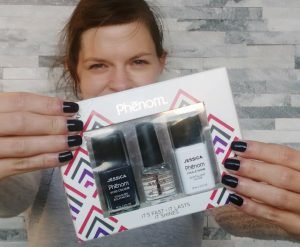 KONČNA OCENA:
Mene je prepričal! Ne morem, seveda, garantirat za vse odtenke, da se obnašajo enako, ampak verjamem, da je temu tako. Enostaven nanos in krasen videz sta mi zagotovo zelo pomembna, če mi pa zdrži cel teden, pa sva dogovorjeno vse! In ta lak pokriva vse najpomembnejše točke, ki bi jih naj po mojem mnenju imel. Ne bom ti trdila, da je to naaajboljši lak na svetu, je pa čisto okej lakec, super se obnese in če ti je katera barva všeč, ti lahko povem, da bo uporaben in po vsej verjetnosti z nakupom ne boš brcnila v prazno.
Imaš kak odtenek nagledan?
Xoxo, A.
**v objavi so PR izdelki, poslani v namene iskrene ocene**